Living on the Edge
cocktail kits
|
element shrub
|
entertaining
|
hostess gift
|
lemon mint shrub
|
party planning
|
pitcher cocktails
|
summer
|
summer entertaining
|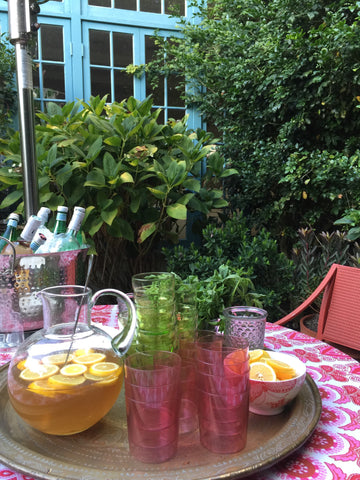 We are whipping it up a bit for our summer soirees. Don't let that freak you out, it's easy, breezy. Really, it is.
We only had vodka around for a last minute al fresco dinner, so we "twisted" our Lemon Mint Gin-Let Cocktail Kit a bit. The rose syrup and lemon mint shrubs are also perfect compliments for vodka. So, we took a chance. Sometimes trying something new for party guests can feel like you are living on the edge. We want to help you feel comfortable living on the "entertaining" edge. That was our goal from the very beginning.
As our guest list grew throughout the day, we knew that a pitcher of this fresh, summer-y cocktail would work perfectly. It turns out that our cocktail kits not only make the perfect cocktail but the perfect PITCHER of cocktails as well. Instead of making one cocktail at a time we followed our recipe BUT added each bottle of syrup and shrub, which is equivalent to making the EIGHT cocktails. Then we added the vodka. Measurements equivalent to EIGHT cocktails as well. To balance, because we are not stirring the cocktail with ice in the pitcher, we added some seltzer water to taste. This is up to you, you are the boss. The only difference in the recipe here is that we don't add the ice at this point. Yes, dilution is a big part of mixology but we didnt want to dilute too much, so we kept ice on the side for guests to add as needed.  We also had some "fresh picked" mint on the side to accompany our lemon garnish as well. Beauty at the Bar. Isn't living on the edge beautiful?