Maker Mondays: 10TH AVENUE TEA's Morgan Walsh and Ann Foley
10th Avenue Tea
|
bartender
|
cocktails
|
cosmo
|
cosmopolitan
|
entertaining
|
mixers
|
startup
|
tea cocktails
|
vodka
|
women entrepreneurs
|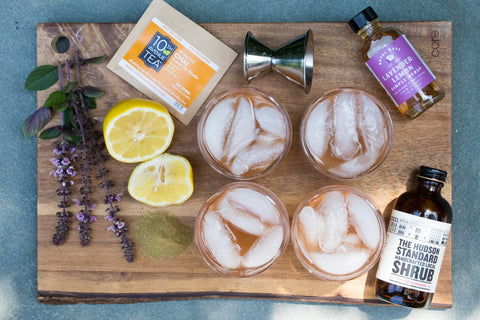 10th Avenue Tea is the story of two inspired moms with a passion for the environment, a desire to reduce waste, and the search for the perfect cup of tea. Developing an eco-friendly product wasn't new to Ann Foley, a Chicago mother of four. She'd already developed a reusable dry cleaning bag that would eliminate the need for plastic bags in the dry cleaning process and was ready to take on another challenge.
For her next venture, Ann turned to her sister-in-law, Morgan Walsh, a fellow tea aficionado and Los Angeles mother of three, who shared Ann's passion for the environment. When Ann shared her idea to develop an eco-friendly tea product, Morgan jumped at the chance to partner with her. But with thousands of miles – not to mention seven children - between them, it wasn't going to be easy. At the time, they had no idea how difficult it would be to stick to their mission of creating a product that was convenient, waste-free, eco-friendly, all-natural and most important of all, great tasting!
The two originally came up with a tea bead, but after many frustrating attempts to produce and process an eco-friendly tea bead with no preservatives or additives, they scrapped the bead concept, pivoted and figured out that a powdered tea formula was the best way to move forward. Powdered tea was convenient, would dissolve easily in both hot and cold water and allowed their customers to determine the strength of their tea simply by adding more powder, much like steeping traditional tea, but without the mess or waste of a tea bag.
Ding. Ding. Ding. Gold mine!
Next they set out to find a shaker bottle that would allow the consumer to shake out the tea powder. It had to be simple - just shake and drink. The container also had to be able to withstand the bumps of shipping while remaining eco-friendly. After searching far and wide they settled on an aesthetically pleasing reusable/ recyclable/refillable metal bottle with a shaker lid.
When it was time to begin production, these two scrappy entrepreneurs set up a bottling line in the dining room of Ann's 10th Avenue (Hence the name) home. Grandma, best friends, and even their kids had a hand in filling the bottles. Through social media, referrals and good old-fashioned pounding the pavement, the initial inventory started to sell and suddenly there was a need for a co-packer to blend and bottle the tea on a larger scale. Many companies advised Ann and Morgan to switch to a plastic spice shaker with a larger opening because there were only a few automated lines that could use their existing bottle. But they stood their ground and refused to compromise their values and finally found a manufacturer in Indiana whose automated line could fill their eco-friendly bottles. You go girls!
Less than a year after starting this journey, these two kick-ass entrepreneurial moms are running 10,000 bottles consisting of four flavors, on their terms! While the initial plan was to sell bottles in little boutique stores, the product has taken on a life of its own. Juice stores, tea stores and restaurants have shown interest in buying the product in bulk and mixing it in with their own drink creations.
That's where Twist Your Spirits comes in. We use 10th Avenue Tea's All Natural Chai Tea Powder with black tea, matcha and chai spices as a garnish for our Strawberry Lavender Cosmo. It mixes seamlessly with the our Cosmo ingredients, adds a distinct and luscious nose at first sip and closes with a rich finish. 
The duo have great visions for future product lines that range from juice and coffee blends to hot chocolate and tea/lemonade blends. Their ultimate goal is to revolutionize the way the world not only drinks tea, but other beverages as well. Healthy and convenient products that work for people with any lifestyle.
Their motto, "Shaking up the way the world drinks tea!"
We like the way it "Shakes up the way we drink cocktails!"