What's the "right" type of ice for use in cocktails?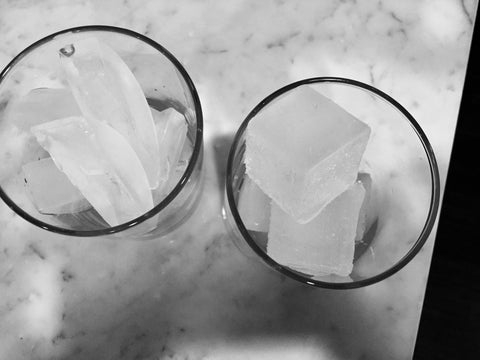 We have this debate all the time when we're testing out different flavors and wondering if our half moon ice (made straight from the ice maker in our freezer) is somehow tricking us and producing a different flavor than square ice or crushed ice would.
What it really comes down to is what is the point of ice in the first place?  It's meant to dilute the cocktail (but slowly).  A cocktail is shaken or stirred to aid in speeding that process up so your first sip isn't straight alcohol but more a mellow mix of the flavors you included in the cocktail.  But the half moon ice, being thinner and therefore containing less surface area, actually melts faster than the square (or large circle if you're an ice chipping phenom - seriously, these things exist!).  So if you want your cocktail to maintain perfect balance, it does help to use square ice.  Plus!  People know you're a real cocktailier (yup, just trying that word on for size) if you use the square ice and it still seems decadent and fun. Even though, let's face it, it's ice.  
Crushed ice?  That's a whole other story.